The Genesis of a Condo... The Seed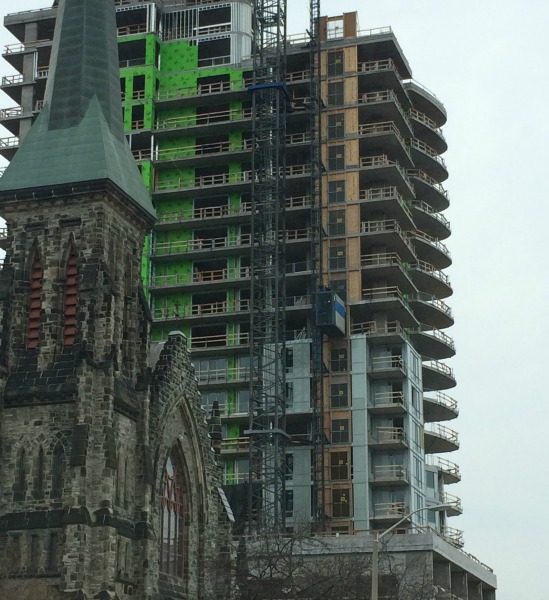 There is a lovely plot of land in Ottawa, and Anglican Church services have been held there since 1833. Where there was once a 50 x 30' rudimentary church structure, there is now the gracious English Gothic stone house of worship,  Christ Church Cathedral. This designated Ontario heritage property sits on the bluffs at the edge of the Ottawa River.
Over time, land was purchased from the Anglican Diocese of Ottawa by Windmill Developments  and in 2012, construction work began on Cathedral Hill, our new home. We bought our unit on spec in Sept 2011. The location of the proposed condo and the fact that the developer, architect and builder were striving for LEED Platinum certification, was extrememly appealing to us, but I knew I was going to be super anal about the floor plan. I inspected all of them, knowing immediately which ones were not suitable for us. I narrowed down our choice to one floor plan and one floor plan only...The Grande Portage.  I made a refundable deposit on two units, finally receiving notice that the unit on the 15th floor could be ours.
Yes, we wanted that unit, but not without making a few significant floor plan changes in order to enhance OUR vision of OUR perfect condo space and without breaking the bank.
Below, the original Grande Portage floor plan.
...and my structural and custom change requests noted in red, on the floor plan below.
1. With the removal of the sliding doors, the rinky dinky 'den' is going to become a larger entrance with a library wall and gallery wall...super sexy and functional with huge entrance impact.
2. The kitchen island is extended to 10', the cooktop is now positioned on the island, the sink has been moved down the counter, the island cabinetry is almost flush with the counter width at the opening of the kitchen, and there is only room for 4 counter stools at the other end of the counter, which is where we will have most of our meals.
3. A 9'W, floor to ceiling cherry panelled fireplace wall is centred on the long wall with a contemporary 7' electric fireplace recessed into the panelled wall.
4. Because I have a huge pet peeve about traffic flow and ease of movement, I have switched the position of the LR /DR. The bigger space closer to the kitchen is now for seating and the smaller space at the end is for less often used dining. I did this for several reasons, not least of which was that we will have full vantage of the fireplace and the view when seated or dining.
5.  There are now only two, instead of three bathrooms to clean...yeeehaw!....and we now have a proper laundry ROOM instead of a laundry closet. I air dry most of our clothing and will be using this room for that purpose.
6. I now have for the first time in my life...a WALK-IN CLOSET. I'm so so so excited, that I actually bought a girly-blingy pendant light fixture to hang in there.
....all of my structural requests as seen on a quick drawing by the architect.
....and finally, looking the worse for wear, my copy of the floor plan showing my structural changes. Over time, there were other changes, made by the builder, mostly to the configuration of the Master Bath, that actually worked in my favour.
Once I had the final floor plan, I was able to translate the measurements to scale and map out each room, thereby creating furniture layouts.
This takes some time, as I'm old school and do mine by hand. The scribbling and writing notes are visual cues for me to remember to add or take things away.
This seed has taken 3.5 years  to grow, from the moment we bought our unit, until we took possession one month ago. During that 3.5 years, we have only been on site ONCE, a year ago, when the condo was a 21 story shell of itself. I cannot tell you how difficult it was for me, a designer, with a personal vested interest, not be on site on a regular basis to oversee  observe the progress being made at regular intervals. GRRRRRR...
However, we were able to drive by often, until we moved to NYC in Sept, and take exterior progress photos. I have made a video, but am having no luck uploading to my blog, so this collage will have to suffice. Enjoy....
Next Chapter in Genesis of a Condo...The Finishes